Rick Arenas, Ph.D.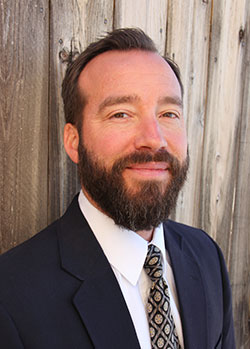 Associate Professor
Associate Department Chair and Graduate Program Coordinator
Email: 

Phone: 

(319) 936-1287

Office: 

Speech and Hearing Sciences 7003

Interests: 

stuttering, counseling, process of personal change

SHS Lab: 
Profile:
Dr. Arenas is an Associate Professor in the Department of Speech and Hearing Sciences at the University of New Mexico.  He received a bachelor's degree in Speech and Hearing Science, a master's degree in Speech Pathology and Audiology and a Ph.D. in Speech and Hearing Science all from the University of Iowa.  His primary research interest is in developmental stuttering.  He is interested in the anticipation of stuttering and the contextual variability of stuttering: Why is it that stuttering occurs consistently more frequently in particular contexts?  Recently his research has transitioned toward the way people relate to their stuttering and how it plays a role in their personal narrative.  Using qualitative methods, he is investigating how people who stutter change their thoughts and beliefs to live harmoniously with stuttering.  The overall goal is to translate research findings in to more effective treatments for stuttering in order to lessen the social and emotional impacts of the disorder.
Recent/Selected Publications:
Arenas, R. M., Shoemaker, J., & Phillips, J. (2018). High prevalence of pineal cysts in adults who stutter. Brain and Language, 177-178, 18-22. https://doi.org/10.1016/j.bandl.2018.01.006
Arenas, R. M., Walker, E., & Oleson, J. (2017). Developmental stuttering in children who are hard of hearing. Language Speech and Hearing Services in Schools. http://doi.org/10.1044/2017_LSHSS-17-0028
Arenas, R. M. (2017). Conceptualizing and investigating the contextual variability of stuttering: The speech and monitoring interaction (SAMI) framework. Speech, Language and Hearing, 20(1), 15–28. https://doi.org/10.1080/2050571X.2016.1221877
Arenas, R. M., & Zebrowski, P. M. (2017). The relationship between stuttering anticipation and verbal response time in adults who stutter. Speech, Language and Hearing, 20(1), 1–14. https://doi.org/10.1080/2050571X.2016.1201346
Buhr, T., Zebrowski, P., Moon, J., Tumanova, V., Arenas, R. & Loucks, T. (2016). Coordination of opening and closing jaw movements of young children who stutter. Speech Pathology and Therapy, 1(115).http://dx.doi.org/10.4172/2472-5005.1000115
Harrison, M., Page, T. A., Oleson, J., Spratford, M., Unflat Berry, L., Peterson, B., Welhaven, A., Arenas, R.M., & Moeller, M. P. (2016). Factors Affecting Early Services for Children Who Are Hard of Hearing. Language Speech and Hearing Services in Schools, 47(1), 16-30. http://doi.org/10.1044/2015_LSHSS-14-0078
Tomblin, J. B., Walker, E. A., McCreery, R. W., Arenas, R.M., Harrison, M., & Moeller, M. P. (2015). Outcomes of Children with Hearing Loss: Data Collection and Methods. Ear and Hearing, 36, 14S–23S. http://doi.org/10.1097/AUD.0000000000000212
Tumanova, V., Zebrowski, P. M., Goodman, S. S., & Arenas, R. M. (2015). Motor practice effects and sensorimotor integration in adults who stutter: Evidence from visuomotor tracking performance. Journal of Fluency Disorders, 45, 52–72. http://dx.doi.org/10.1016/j.jfludis.2015.04.001
Bentler, R., Walker, E., McCreery, R., Arenas, R, & Roush, P. (2014). Nonlinear frequency compression in hearing aids: Impact on speech and language development. Ear and Hearing, 35:4, 143-152. http://dx.doi.org/10.1097/AUD.0000000000000030
McGregor, K, Licandro, U., Arenas, R., Eden, N., Stiles, D., Bean, A. & Walker, E. (2013). Why words are hard for adults with developmental language impairment. Journal of Speech, Language and Hearing Research, 56, 1845-1856. http://dx.doi.org/10.1044/1092-4388(2013/12-0233)
Arenas, R. & Zebrowski, Z. (2013). The effects of autonomic arousal on speech production in adults who stutter: A preliminary study. Speech, Language and Hearing, 16:3, 176-185. http://dx.doi.org/10.1179/2050572813Y.0000000011
McGregor, K., Rost, G., Arenas, R., Farris-Trimble, A. & Stiles, D. (2013). Children with autism can use gaze in support of word recognition and learning. Journal of Child Psychology and Psychiatry, 54:7, 745-753. http://dx.doi.org/10.1111/jcpp.12073
Arenas, R., Zebrowski, P., & Moon, J. (2012). Phonetically governed voicing onset and offset behavior in preschool children who stutter. Journal of Fluency Disorders, 37, 179-187. http://dx.doi.org/10.1016/j.jfludis.2012.04.001
Zebrowski, P. & Arenas, R. (2011). The "Iowa Way" revisited. Journal of Fluency Disorders, 36, 144-157. http://dx.doi.org/10.1016/j.jfludis.2010.08.001