Undergraduate Program Overview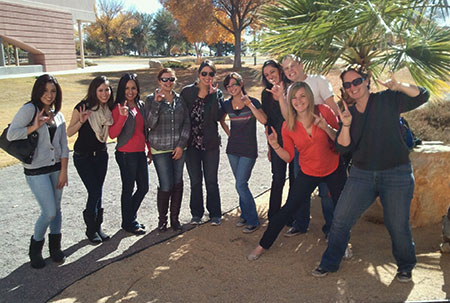 The Bachelor's Degree in Speech and Hearing Sciences allows students to explore the mechanisms and processes of human communication and prepares students to pursue graduate education in the fields of speech-language pathology, audiology, or speech and hearing science. Courses are open to students in other major fields.
Audiologists are professionals with master's or doctoral degrees specializing in prevention, identification, and assessment of hearing impairment. They also provide habilitation and rehabilitation of persons with hearing loss, and they fit hearing aids. Audiologists work in hospitals, rehabilitation centers, private practices, universities, schools, government agencies, industry, nursing homes, and health departments.
Speech-language pathologists are professionals with master's or doctoral degrees who assess and treat communication disorders such as stuttering, delayed language development, aphasia, voice disorders, and articulation problems. Speech-language pathologists work in schools, hospitals, rehabilitation centers, nursing homes, research laboratories, universities, and private practices.
Speech, language, and hearing scientists are professionals, usually with a doctoral degree, who investigate basic and applied aspects of communication. They work mainly in universities, industry, and research institutes.
There is a continuing need, nationwide, for certified professionals in these fields. The major is an excellent choice for students who have a general interest in human behavior, education, and/or health professions and who are specifically interested in how humans beings acquire, produce, and receive language.
Bachelor of Arts in Speech and Hearing Sciences: Broad Learning Goals
The Bachelor of Arts in Speech and Hearing Sciences is a pre-professional program designed to prepare students for advanced study in speech-language pathology or audiology. The student learning outcomes relate to standards set by the American Speech-Language-Hearing Association (ASHA) that are to be fully achieved at the graduate level.
By the completion of the program, undergraduate students are expected to:
Demonstrate knowledge of theories and principles of communication development and disorders across the life span
Demonstrate knowledge of the nature of speech, language, and hearing disorders
Demonstrate understanding of basic clinical processes
Demonstrate adequate writing skills for clinical report writing
Develop a framework for understanding how cultural and linguistic diversity affect communication and the clinical process